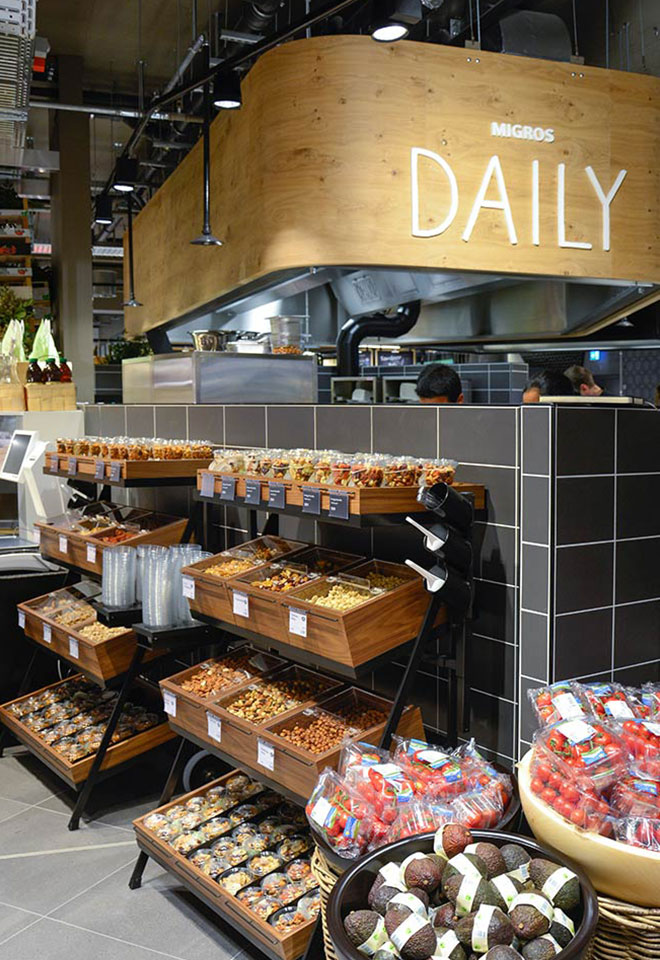 With fast, fresh and healthy gastronomy the new take-away concept "Migros Daily" attracts customers. The lighting concept implemented by Schweitzer Project and Oktalite dispenses with strong contrasts in favour of warm and harmonious lighting of the sales area. On the walls and gastronomy counters Migros, uses bright genuine wood; the floors and walls are partly grey-tiled.
"An exciting lighting effect relying on strong contrasts was dispensed with in favour of warm, harmonious illumination of the sales area"
Dorothea Knisch, Senior Interior Designer at Interstore Design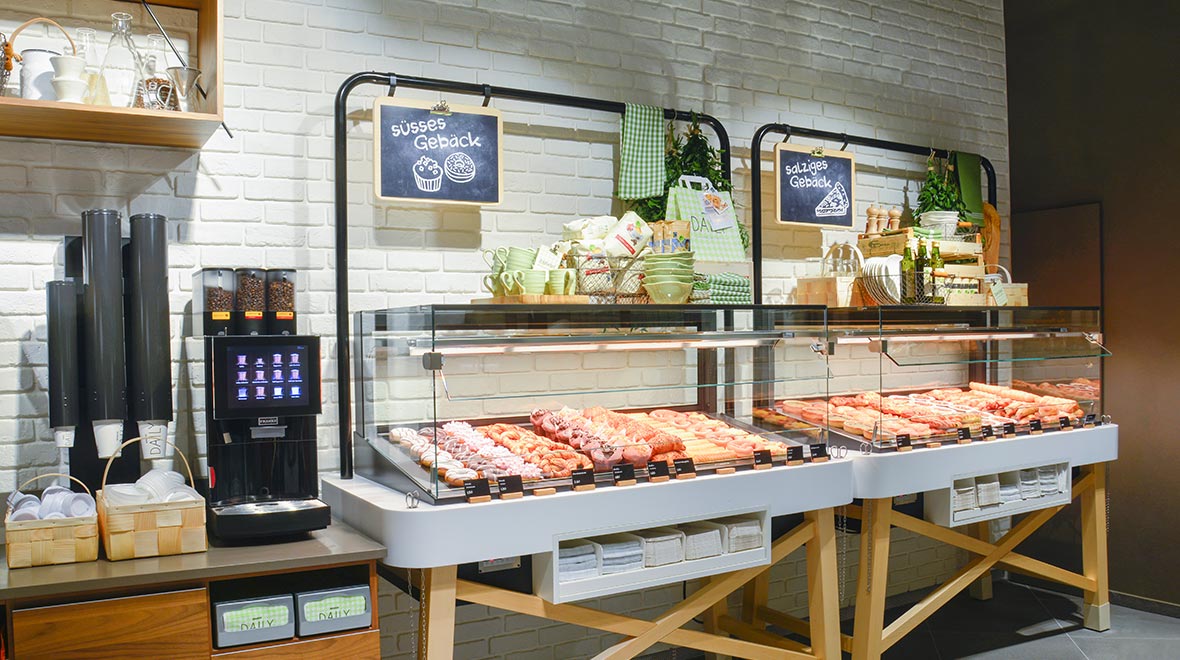 Self-service offers: coffee, sweet and savoury pastries are put together on any individual basis by customers. Wooden blackboards with current daily offers written in chalk emphasise the craftsmanship that the customer also experiences with the preparation of the dishes.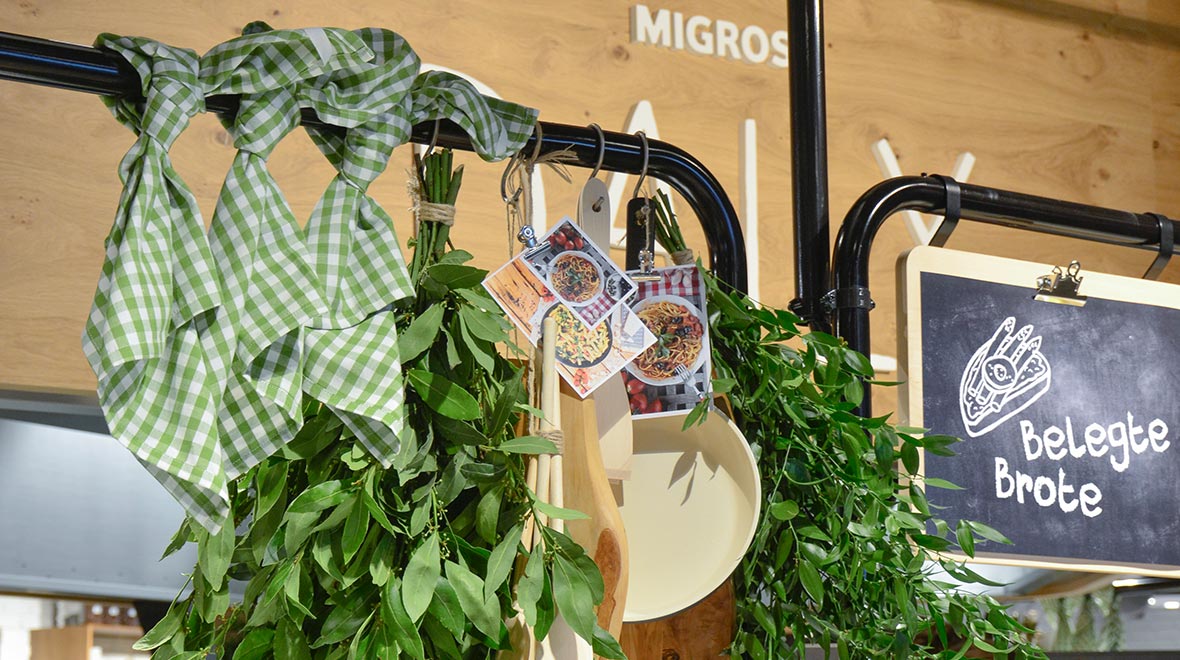 The LED lighting concept with black B.LEE spotlights, that regarding the light colour and the light intensity is adapted to the colours of the goods in a very differentiated way and accentuates them systematically, has the decisive share in the overall impression. The room lighting consciously steps back behind it with brightness that is rather moderate. The visual merchandising concept supports the emotionalisation of the sales area: decorative green, whether as a bunch of herbs or as a checkered teatowel, underscores the freshness character.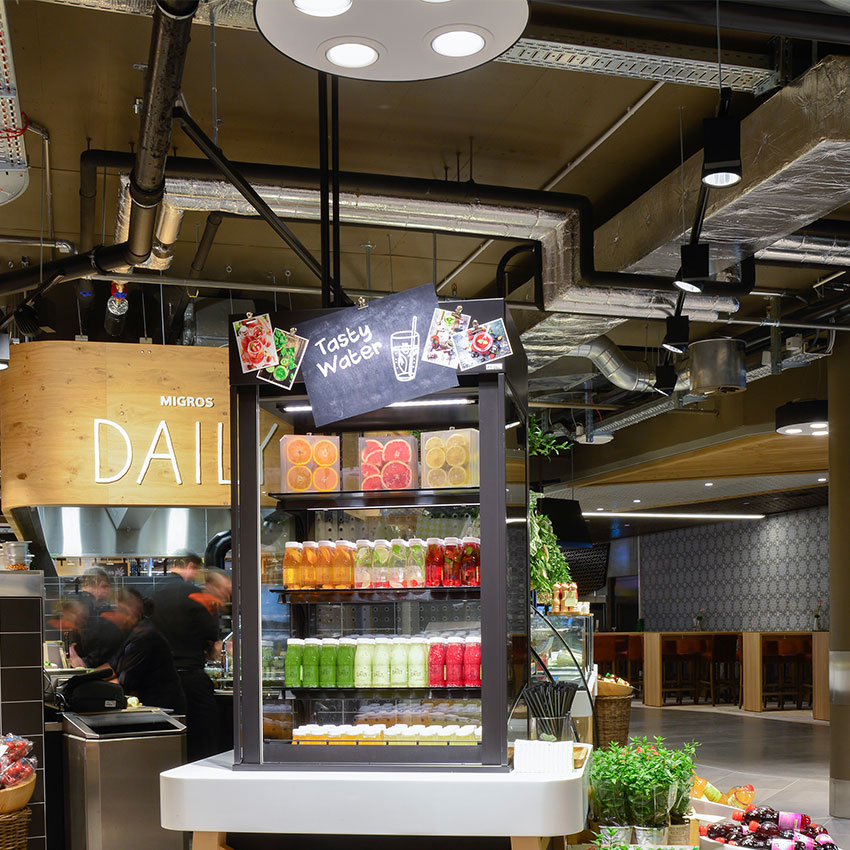 Fresh juices and fruit make for a freshness offensive already in the entrance area. Many products are produced directly at the location in a production kitchen in the basement. With this daily set-up concept, Migros secured the nomination for the Retail Week Interiors Awards 2017 in the category "Best Food and Supermarket Design".
Address
Oktalite Lichttechnik GmbH
Mathias-Brüggen-Straße 73
50829 Cologne
Germany