KALO PLUS
The maxi version of the track-mounted LED spotlight KALO distinguished with the Red Dot Award in 2019 introduces even more possibilities into room illumination. In this case, KALO PLUS yields an extremely convincing lighting performance especially in the case of high-ceilinged rooms. In its ideal areas of use, food and fashion or also automotive, it additionally wins points with its simple design that adapts to any furnishing or equipment. Now wireless lighting management available for low-installation modernization.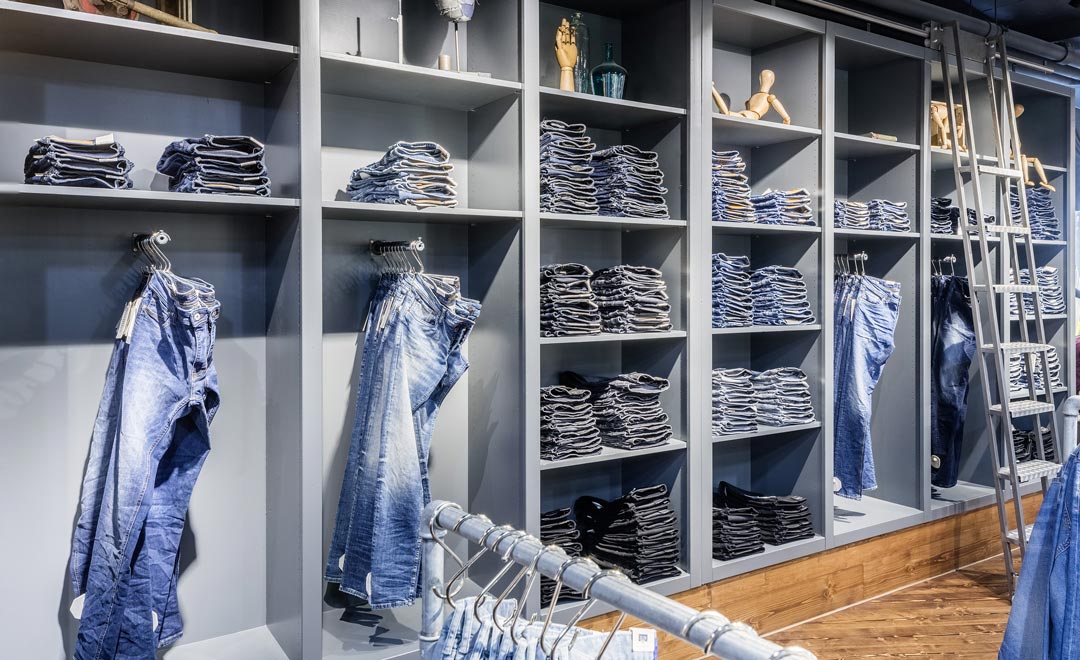 KALO PLUS in use
Ideal accentuated lighting on the 3-circuit power track for the fashion area. KALO PLUS can be turned through 355° and tilted through 110°, in that way it illuminates back walls reliably and in an exciting way at the same time. With up to 7000 lm, this spotlight really brings power onto the area. Thanks to LEDIQ it is naturally also suitable for customized, smart lighting management.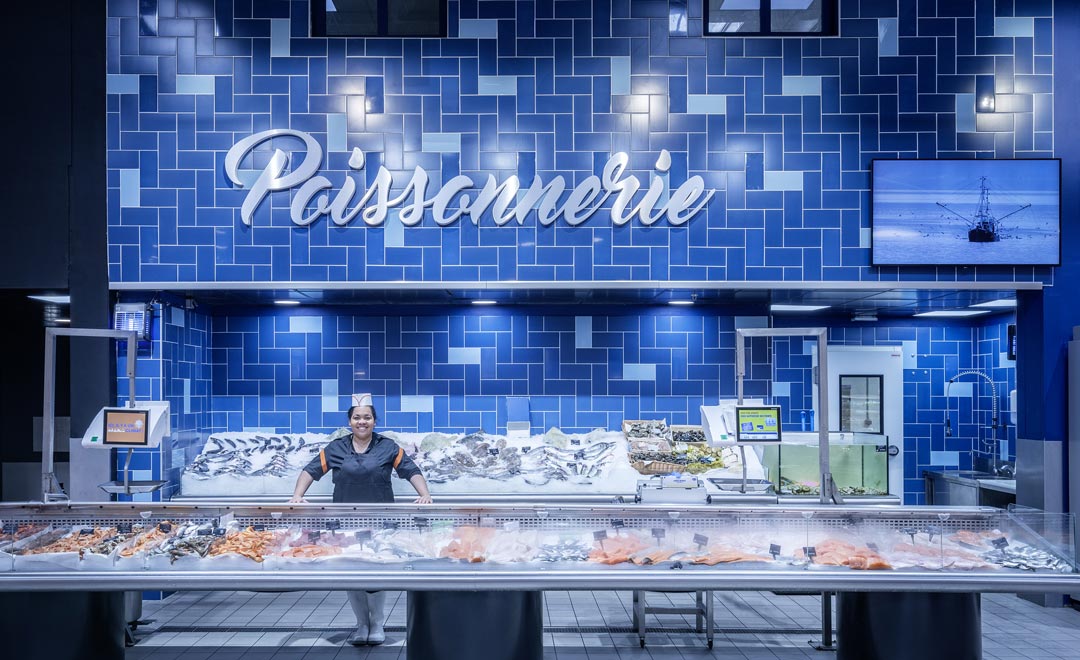 KALO PLUS makes every fresh food paradise shine with a great long-distance and dramatic effect. The spotlight can be fitted with all six white light colours and all of our special light colours for best colour rendition of fish, for example, and according to our claim, it does credit to clear, authentic goods presentation and scenic quality light.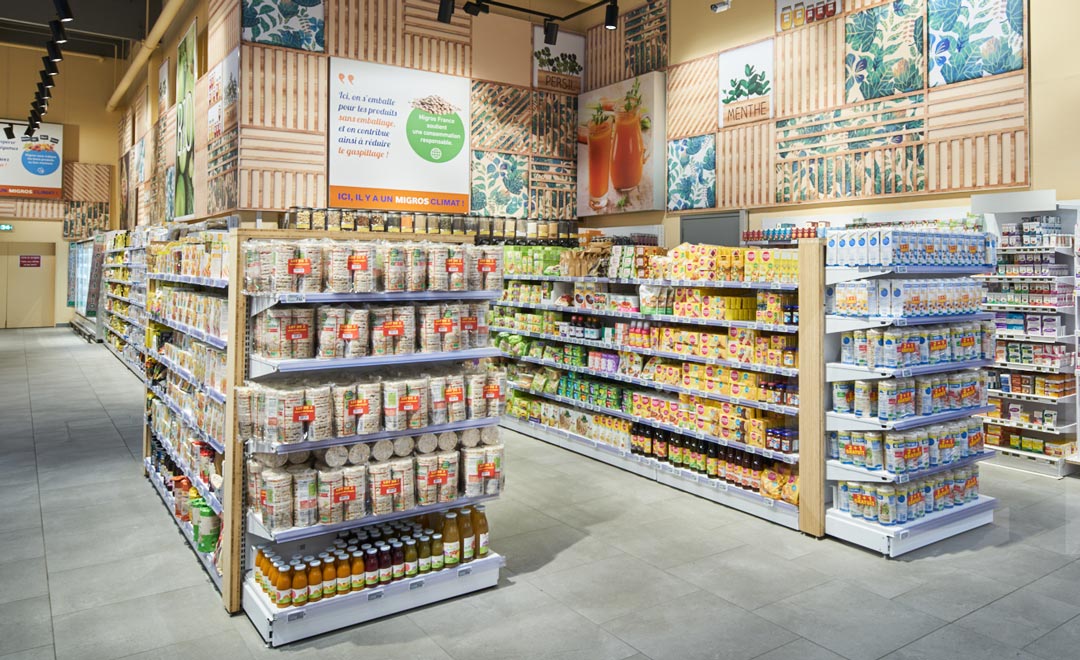 Good illumination and customer guidance are particularly important in stores with a high goods density. Here, everything depends particularly on the correct and widely varied accentuation of products and special areas. With five reflectors that can be replaced easily without tools, with KALO PLUS there are no limits to the sophisticated play of stable ambient lighting and well-dosed highlights.
Technical Specifications & Downloads
PLEASE SELECT LIGHTING
| | |
| --- | --- |
| Application areas | Accent lighting |
| LED Luminous Flux Class | 1500 lm - 7000 lm |
| Light colour | 2700 K, 3000 K, 3000 K - Efficient White, 3100 K - Brilliant Colour, 3500 K, 4000 K, 4000 K - Efficient Cool, M, M+F, BF |
| Optic | 3D facetted reflectors |
| Supply unit | Driver |
| Light Control | on request |
| Material | Die-cast aluminium |
| Luminous Color | RAL 9005 jet black, RAL 9006 white aluminium, RAL 9016 traffic white |
| Weight | Approx. 2.0 kg |
| | |
| --- | --- |
| Application areas | Accent lighting |
| LED Luminous Flux Class | 2000 lm - 7000 lm |
| Light colour | 2700 K, 3000 K, 3000 K - Efficient White, 3100 K - Brilliant Colour, 3500 K, 4000 K, 4000 K - Efficient Cool, M, M+F, BF |
| Optic | 3D facetted reflectors |
| Supply unit | DALI driver |
| Light Control | DALI DT6 |
| Installation | Recommended for new installation. |
| Material | Die-cast aluminium |
| Luminous Color | RAL 9005 jet black, RAL 9006 white aluminium, RAL 9016 traffic white |
| Weight | Approx. 2.0 kg |

| | |
| --- | --- |
| Application areas | Accent lighting |
| LED Luminous Flux Class | 2000 lm - 5000 lm |
| Light colour | 2700 K, 3000 K, 3000 K - Efficient White, 3100 K - Brilliant Colour, 3500 K, 4000 K, 4000 K - Efficient Cool, M, M+F, BF |
| Optic | 3D facetted reflectors |
| Supply unit | BLE-Driver |
| Light Control | Bluetooth Low Energy |
| Installation | Recommended for modernization or new installation. In a BLE network up to 127 luminaires can be coupled. A stable Bluetooth connection depends on the particular local situation. In the case of this luminaire type it amounts to up to 15 m. |
| Material | Aluminium-Druckguss |
| Luminous Color | RAL 9005 jet black, RAL 9006 white aluminium, RAL 9016 traffic white |
| Weight | ca. 1,2 kg |

Address
Oktalite Lichttechnik GmbH
Mathias-Brüggen-Straße 73
50829 Cologne
Germany