LORETO SQUARE
With LORETO SQUARE, our round panel light has found its worthy supplement. The power package can be fitted up to 11000 lumens for the effective customer guidance in malls and entrance areas. Whether surface-mounted or suspended, the "new one" permits a varied play with shapes and sizes. In that way lighting can be integrated as a visible area into modern shop fitting concepts for great mixing and matching.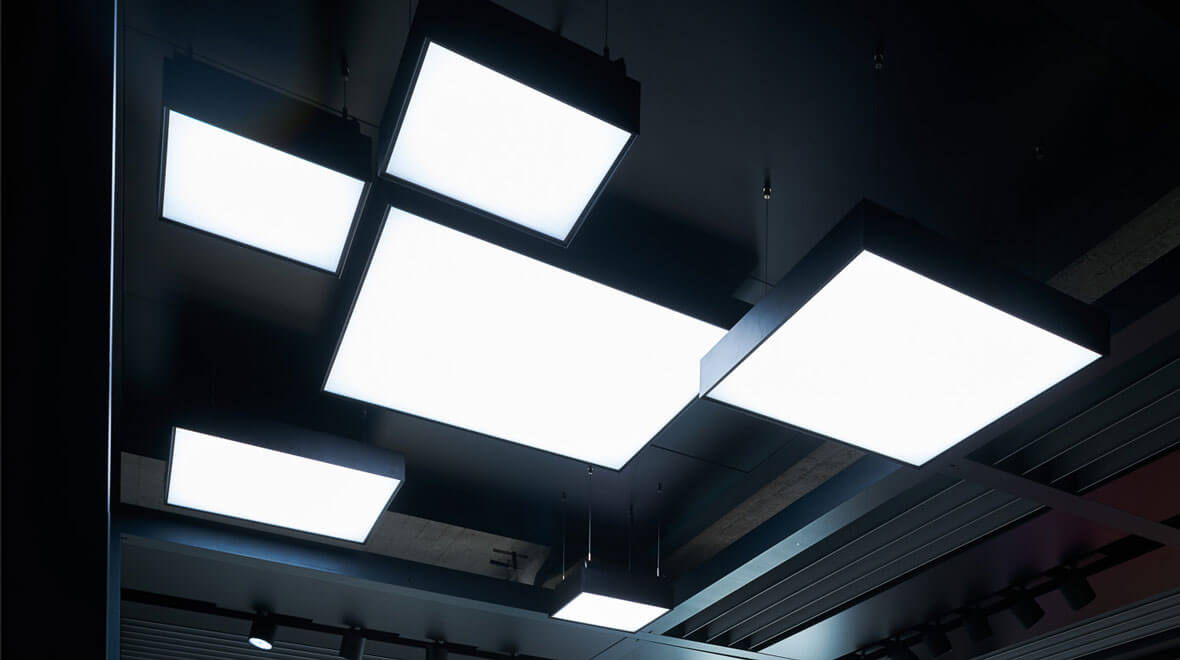 LORETO SQUARE in use
Mondrian sends greetings: whether as a square in the standard version or as a special in the rectangle - LORETO SQUARE offers itself for customized designs on the ceiling. Such an ensemble of luminaires as an aesthetic collage brings life into the surroundings. Light that can be experienced in this way artfully upgrades representative areas.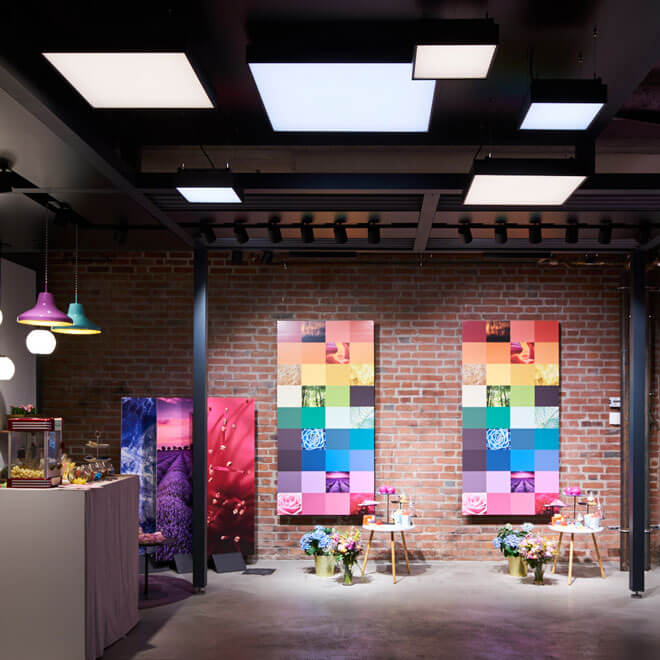 Suspended or ceiling-mounted? Both are possible with this flexi-luminaire made to measure without any problems. Particularly in the combination of both designs a special tension arises. It provides the room with a bright design that is complemented perfectly by the interior design. Visible light that fuses with the scenes set in the retail area and yet sets its own accents.
White is not always the same white. In the ACTIVE variant LORETO SQUARE makes the most varied uses of the sales area: the luminaires change the light colour temperature and mood with great precision. Simple lighting control, effective result. And an eye-catcher into the bargain.
Technical Specifications & Downloads
Please select a light source
Application areas
base illumination
LED Luminous Flux Class
1500 lm -
Light colour
3000 K, 4000 K
Supply unit
Driver
Lighting controls
on request

Material
Sheet steel
Luminaire colour
RAL 9005 jet black
RAL 9006 white aluminium
RAL 9016 traffic white

Weight
4.9 kg / 11.2 kg / 19.8 kg

Application areas
base illumination
LED Luminous Flux Class
1500 lm -
Light colour
3000 K, 4000 K, Active 2700-6500 K
Supply unit
DALI driver
Lighting controls
DALI DT8 (Active)
DALI DT6

Installation
Recommended for new installation.
Material
Sheet steel
Luminaire colour
RAL 9005 jet black
RAL 9006 white aluminium
RAL 9016 traffic white

Weight
4.9 kg / 11.2 kg / 19.8 kg

The
Loreto

product family
Address
Oktalite Lichttechnik GmbH
Mathias-Brüggen-Straße 73
50829 Cologne
Germany