TOKO PLUS
This LED downlight is an ideal partner for the sales floor. The simple design makes TOKO PLUS the favourite. The ceiling-recessed luminaire reliably supplies optionally homogeneous or accentuated light for all groups of goods. Equipped with our unique 3D faceted reflectors, the luminaire with four beam angles provides more possibilities for targeted illumination. Now wireless lighting management available for low-installation modernization.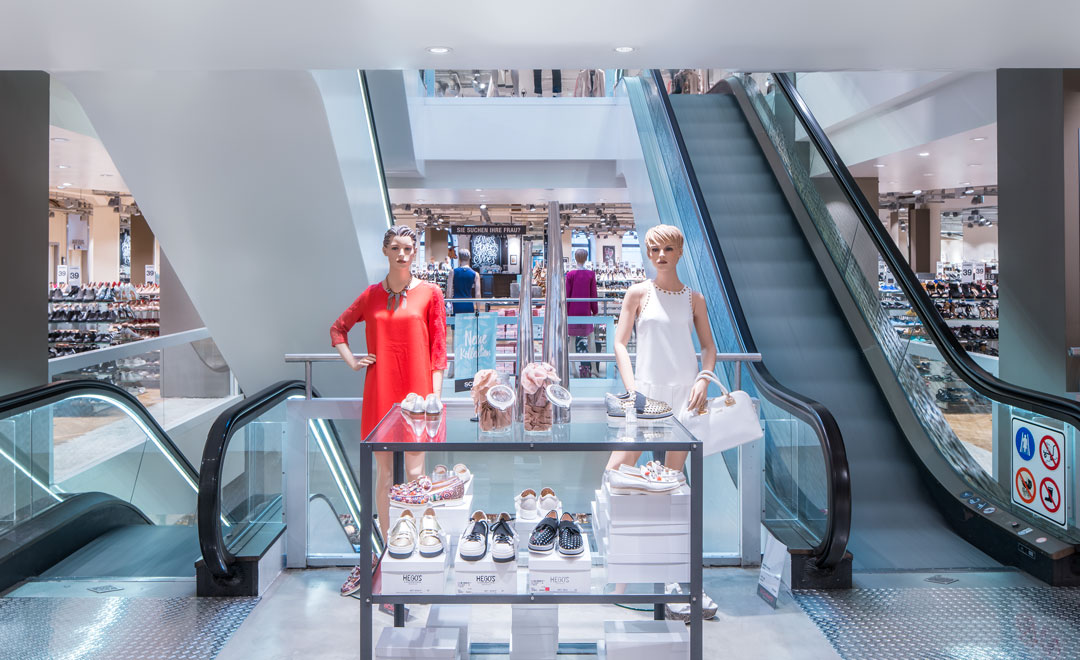 TOKO PLUS in use
With its powerful luminous flux of up to 5000 lm, TOKO PLUS effortlessly creates clear, fresh and powerful orientation lighting even in the case of rooms with high ceilings. This power in combination with the needs-based beam angle pays off for example for the area in front of escalators, where the customer would like to see quickly from the signposts where his/her next shopping destination is: that, too, is a part of the feel-good experience.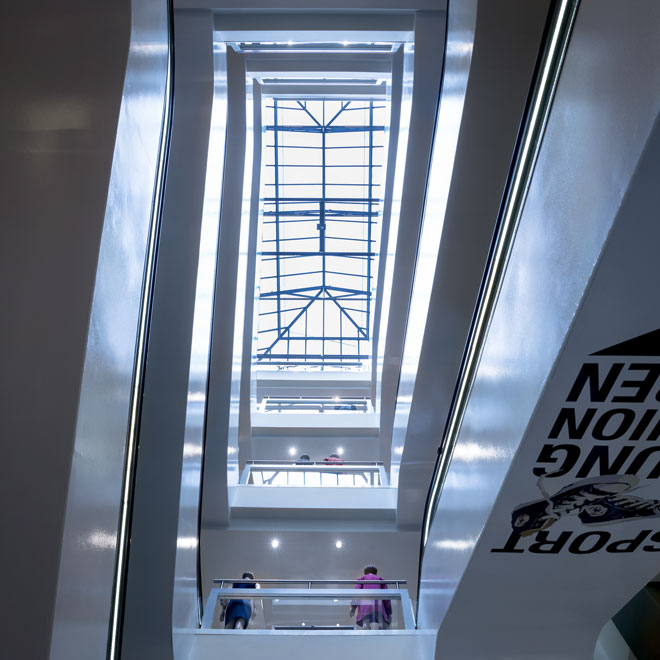 A further advantage of TOKO PLUS is its innovative fastening. The in-house developed mechanism for this luminaire makes any mounting clearly easier. Particularly in areas with great ceiling heights such as the stairwell that is highly efficient. For the multi-faceted downlight, all six white light colours are available to choose from. And naturally the downlight is designed for smart lighting management – and so it is also an ideal partner for intelligent lighting concepts.
Technical Specifications & Downloads
PLEASE SELECT LIGHTING
| | |
| --- | --- |
| Application areas | base illumination |
| LED Luminous Flux Class | 3000 lm - 7000 lm |
| Light colour | 2700 K, 3000 K, 3000 K - Efficient White, 3100 K - Brilliant Colour, 3500 K, 4000 K |
| Optic | 3D facetted reflectors |
| Supply unit | Driver |
| Material | Die-cast aluminium |
| Luminous Color | RAL 9005 jet black RAL, 9006 white aluminium, RAL 9016 traffic white |
| Weight | Approx. 1.2 kg |

| | |
| --- | --- |
| Application areas | base illumination |
| LED Luminous Flux Class | 4000 lm - 7000 lm |
| Light colour | 2700 K, 3000 K, 3000 K - Efficient White, 3100 K - Brilliant Colour, 3500 K, 4000 K |
| Optic | 3D facetted reflectors |
| Supply unit | DALI Driver |
| Material | Die-cast aluminium |
| Luminous Color | RAL 9005 jet black, RAL 9006 white aluminium, RAL 9016 traffic white |
| Weight | Approx. 1.2 kg |

| | |
| --- | --- |
| Application areas | base illumination |
| LED Luminous Flux Class | 3000 lm - 5000 lm |
| Light colour | 2700 K, 3000 K, 3000 K - Efficient White, 3100 K - Brilliant Colour, 3500 K, 4000 K |
| Optic | 3D facetted reflectors |
| Supply unit | BLE Driver |
| Installation | Recommended for modernization or new installation. In a BLE network up to 127 luminaires can be coupled. A stable Bluetooth connection depends on the particular local situation. In the case of this luminaire type it amounts to up to 25 m. |
| Material | Die-cast aluminium |
| Luminous Color | RAL 9005 jet black, RAL 9006 white aluminium, RAL 9016 traffic white |
| Weight | Approx. 1.2 kg |

Address
Oktalite Lichttechnik GmbH
Mathias-Brüggen-Straße 73
50829 Cologne
Germany