Very Special: unique luminaires, easiest lighting control system
A newly constructed supermarket full of custom-made products – including exclusive suspended luminaires and new light colours such as Brilliant Food in the fresh food area. The highlight is the clever combination of modern lighting control systems with LiveLink and LEDIQ BLE. Orientation, visual comfort, customized scene setting of areas and products: the lighting requirements of each situation were the decisive factor for the respective lighting management system. See the example of Wine & Dine – sales or tasting? The wireless solution bathes the exposed area in a flash in the appropriate lighting scenario. The advantage of the LEDIQ BLE variant is that future adjustments to the lighting are compatible as they can be implemented irrespective of the shop's technical infrastructure.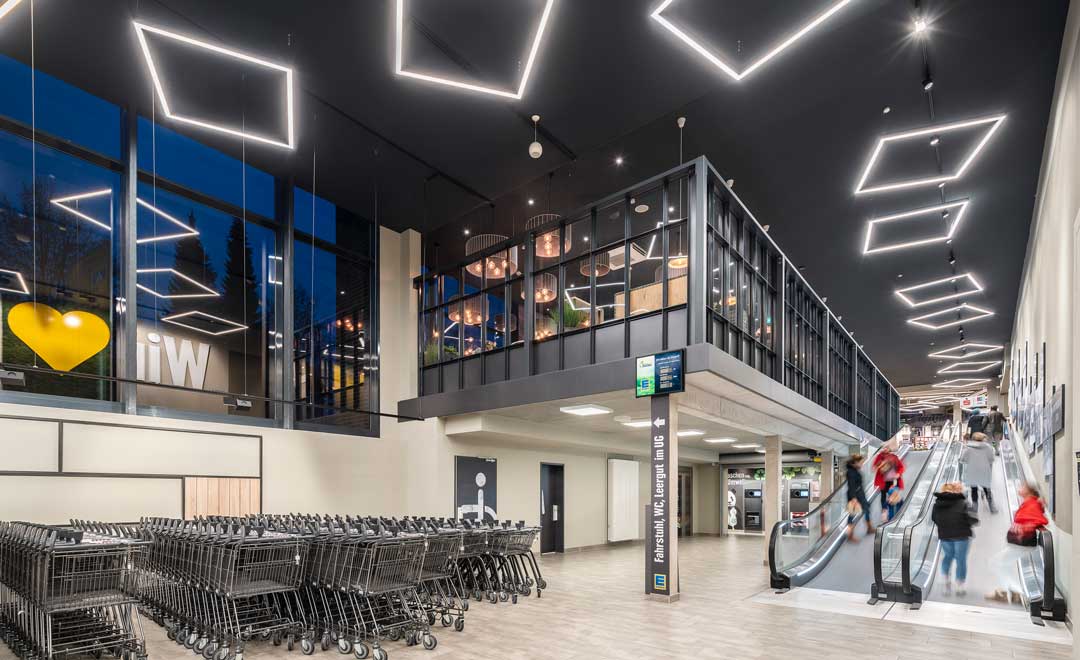 This is how bright the supermarket can be today: this Edeka Süllau branch scores with an imposing entrance thanks to the double storey height, showcased by means of LORINO SQUARE. The playful arrangement subtly achieves its functional triad: welcoming, providing orientation and guiding. The customer then meets this special luminaire again in the frozen food area.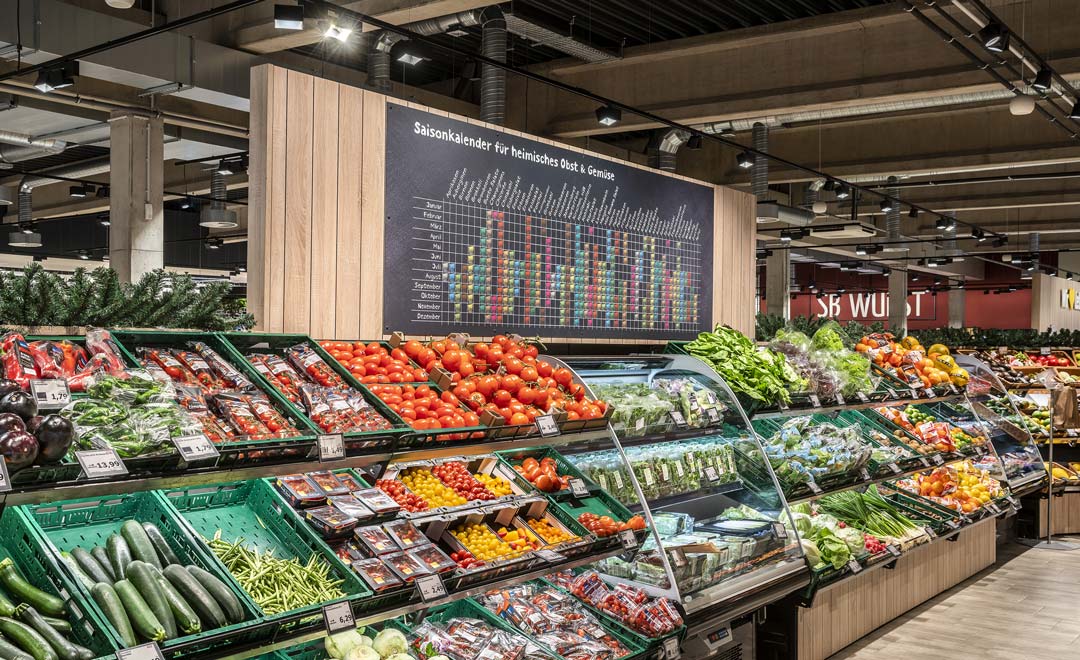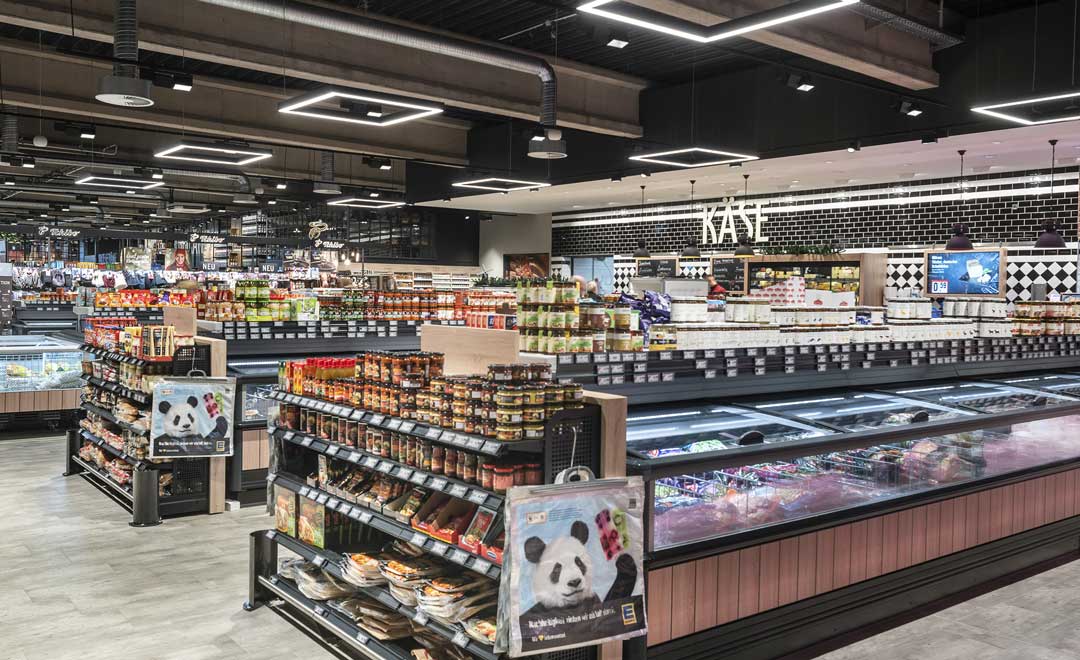 SUN. LIGHT. QUALITY. in the case of fruit and vegetables. A fresh food area that more than deserves its name. The appetizing product presentation is achieved by KALO equipped with BRILLIANT FOOD. The light colour was specially developed for the ideal product effect in this important area. The supermarket feeling is enhanced by specially developed suspended luminaires with a green inner coating. GLOBE in customized colours sets further accents in this branch.
"The special lighting enhances the character of our supermarket every day for customers and employees alike. The concept of shopping and enjoying invites people to deliberately stay longer on our premises."
Hendrik Süllau, Managing Director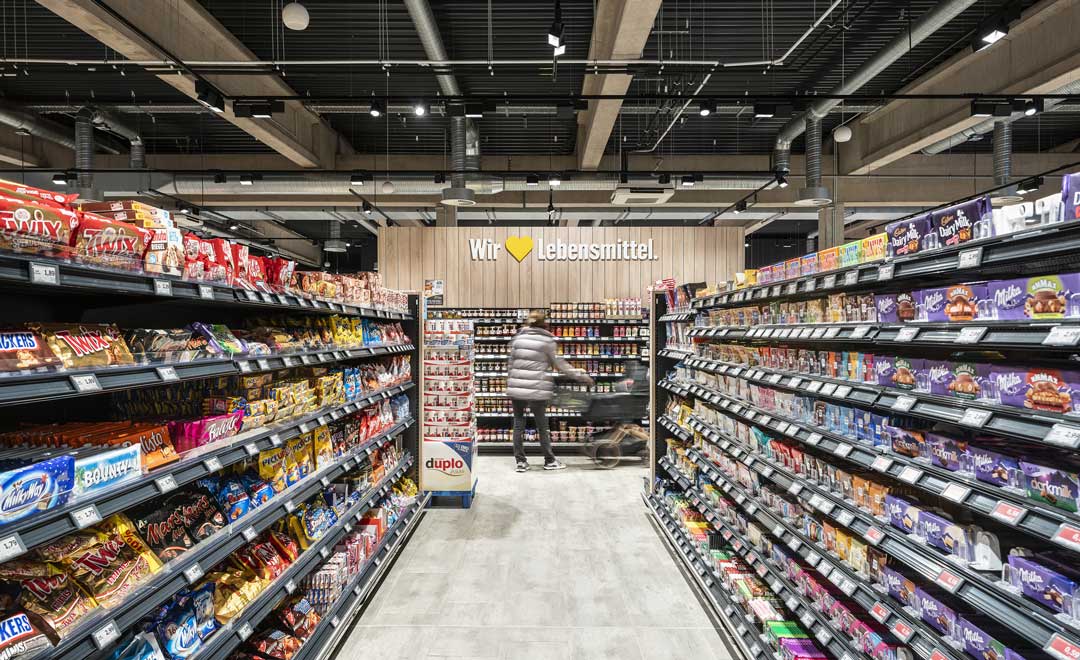 More attention for the assortment in the aisle. GRADO TWIN provides an honest, clear basic light, with its light colour adjusted to the respective range. 3000 Kelvin for a warm, pleasant atmosphere in the case of confectionery; 4000 Kelvin are, on the other hand, required in the cosmetics area – here the somewhat cooler colour temperature conveys a sense of freshness and cleanliness. GLOBE ensures decorativeness on the blue painted supporting structure of the 800 mm shade.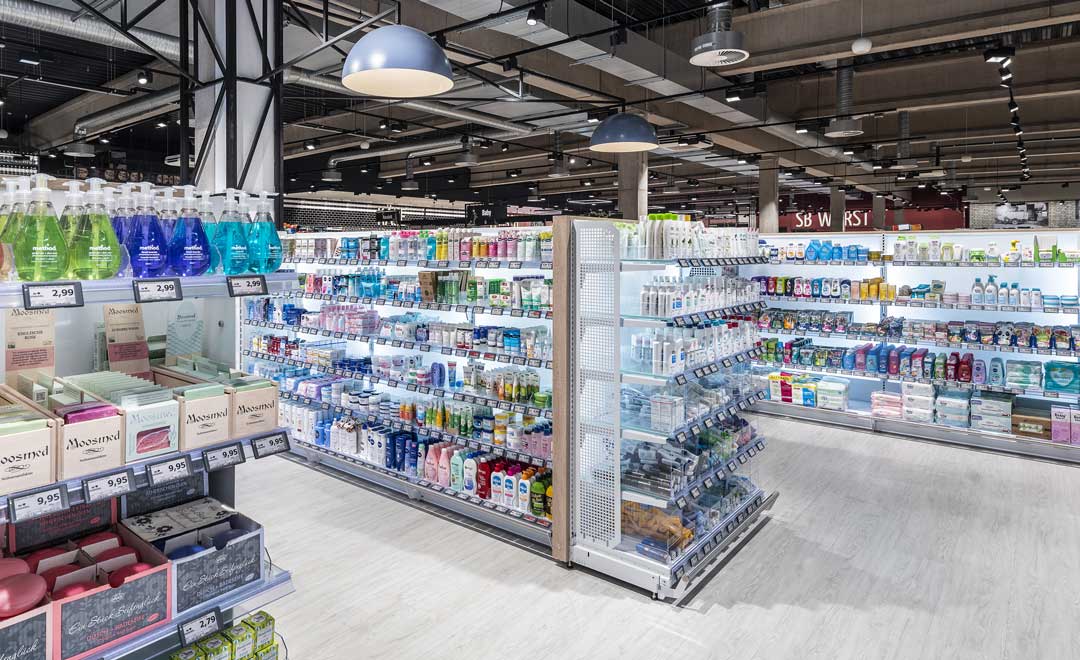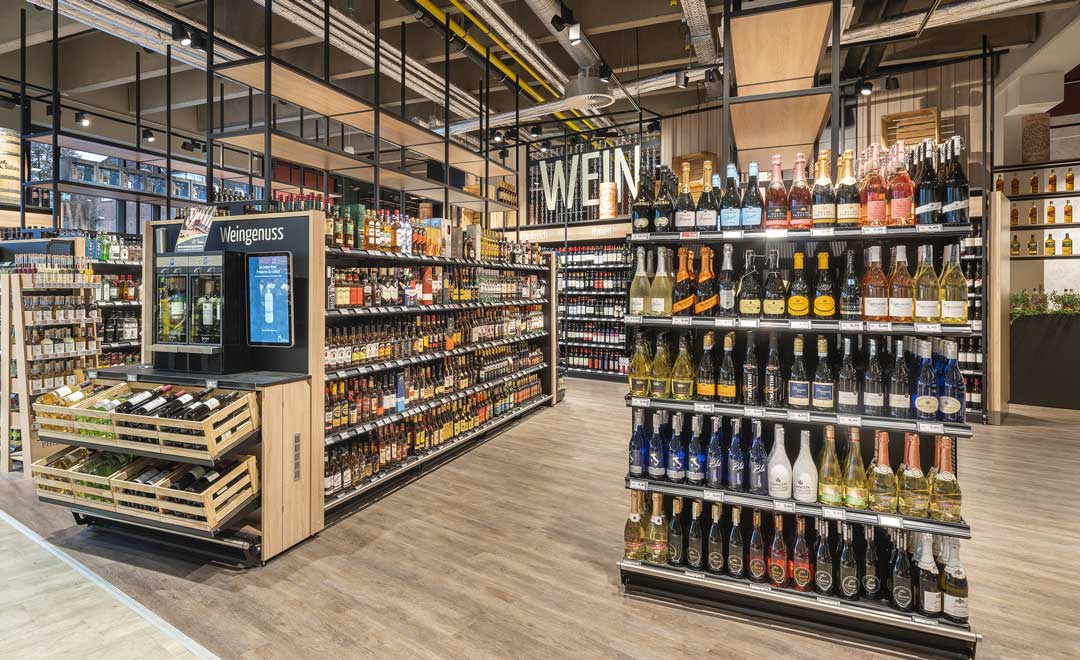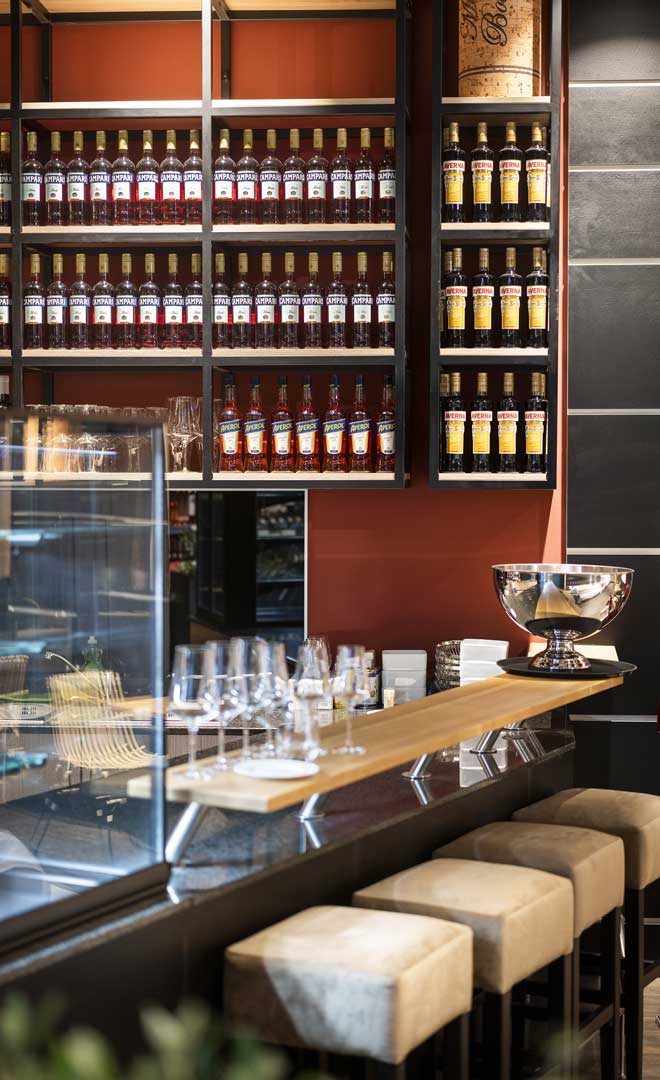 The highlight in the supermarket: the high-quality wine department with tasting area and event space. The different demands made on the lighting for the three areas are solved masterfully by the KALO spotlight equipped with an LEDIQ BLE lighting control system. The Bluetooth low-energy technology enables lighting management for various scenes very easily and in a customized manner for individual areas – since it functions wirelessly and completely independently of the technical building infrastructure!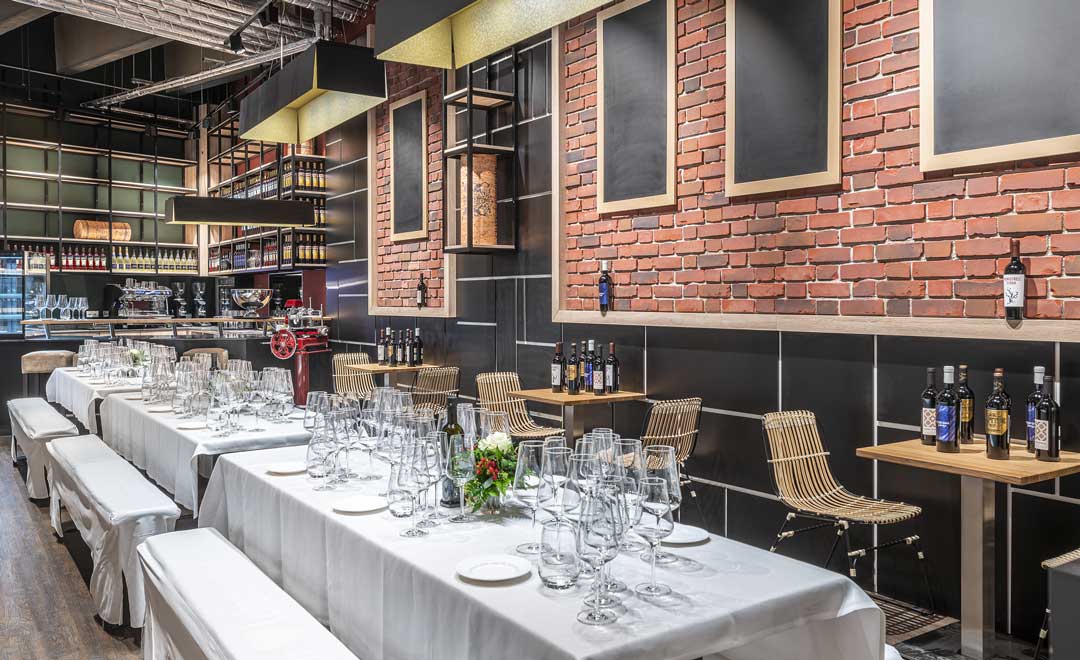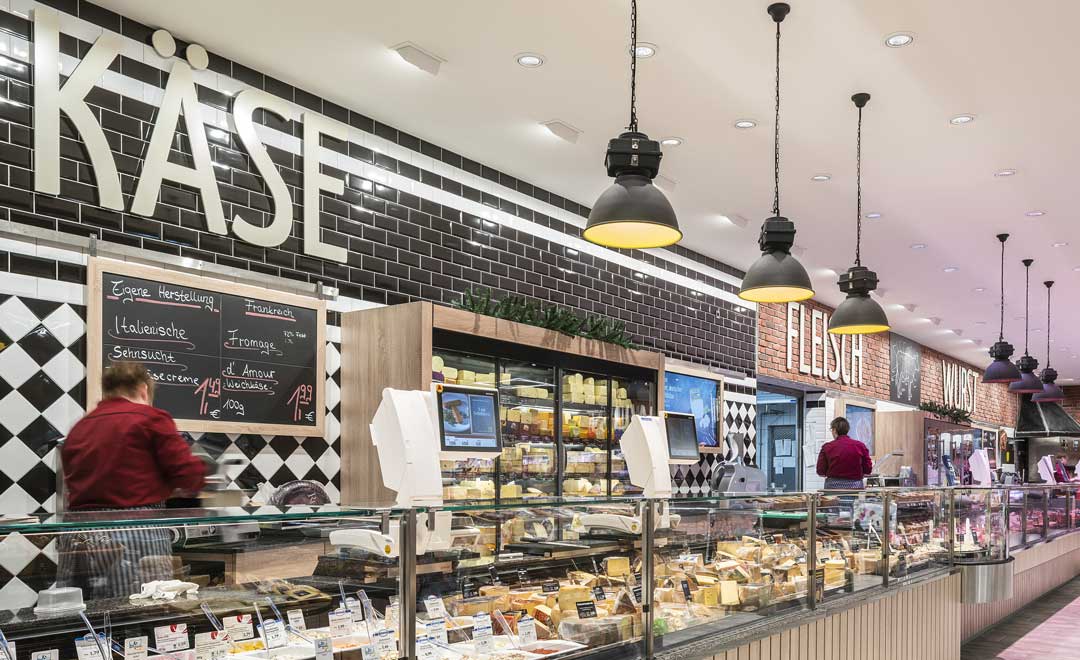 Freshness, balanced, as the finishing touch, against the goods presented. Whether cheese or meat, the recessed LED luminaire AGIRA PLUS in a double-row arrangement can, in two light colours that are gentle on goods, be adjusted individually as regards effect and brightness via LiveLink for every group of products. Orientation is provided by means of the best and homogeneous illumination of the displays by the wall-washer IDESTO VARIO PLUS. And the suspended luminaire GLOBE in its own paintwork serves as a sensuous eyecatcher and recurrent element in the ultramodern supermarke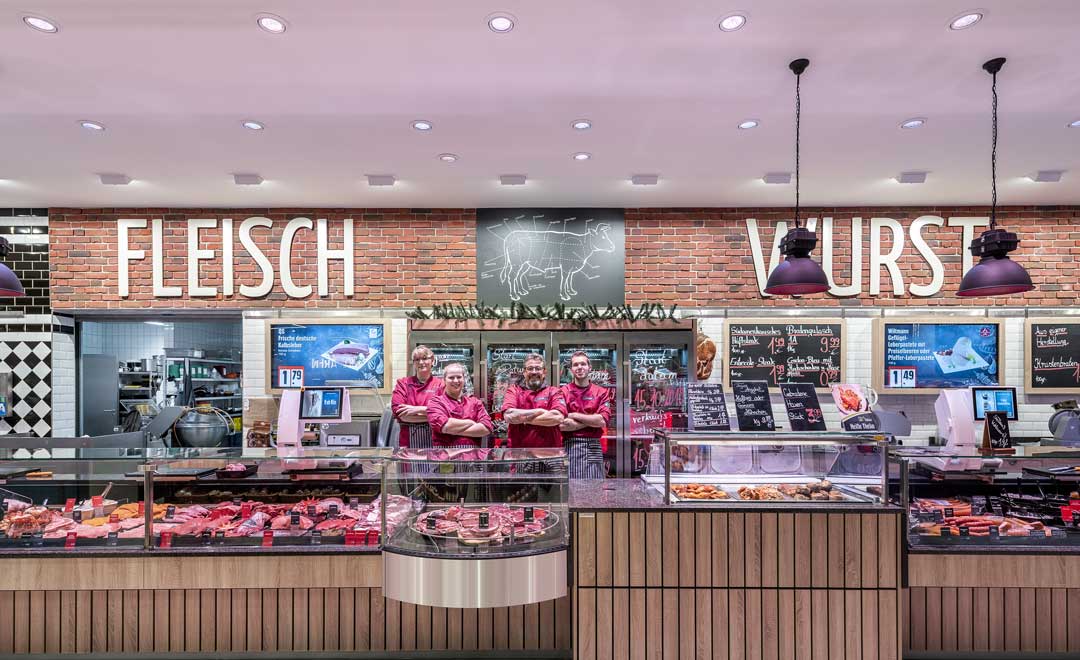 Address
Oktalite Lichttechnik GmbH
Mathias-Brüggen-Straße 73
50829 Cologne
Germany