Hello Future!
What will the car dealership of the future look like? BMW Märtin in Freiburg today, over an area of 11,000 square metres, already lives in the tomorrow of mobility and enjoyment of the vehicle. The differentiated lighting management as a joint Oktalite and Trilux project for the building and outdoor area sets new standards.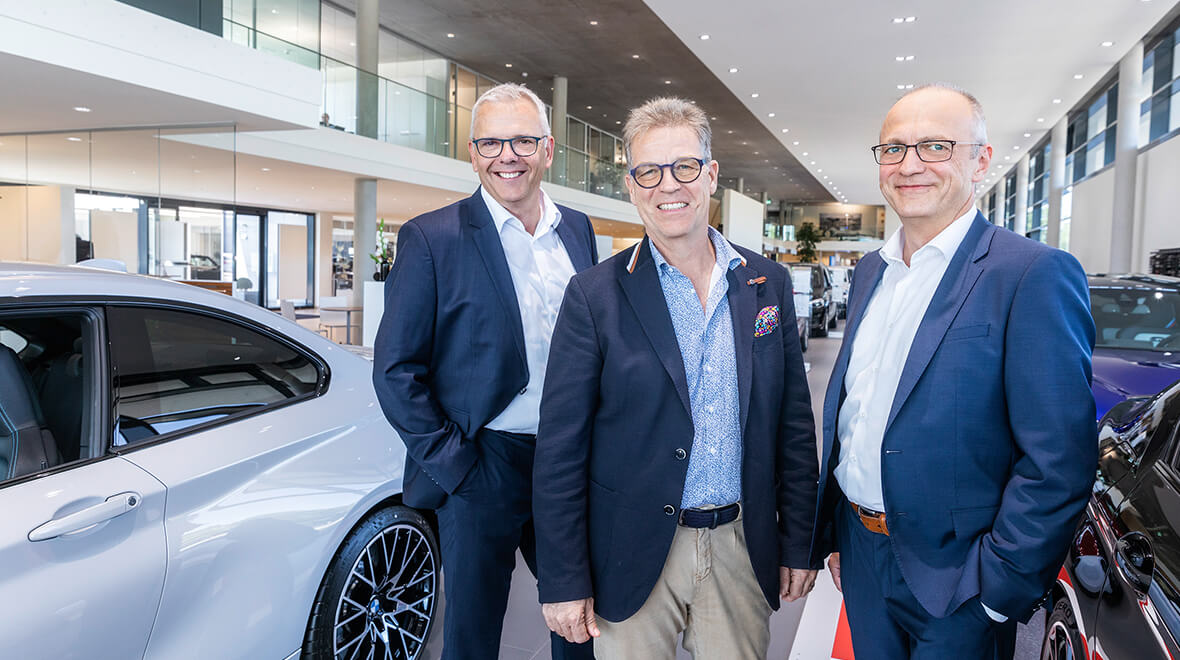 "The architecture and lighting design were based on my "Vision 2020". The most innovative car dealership in South Germany is sustainable as it is CO2-neutral and future-proof in the entire building and lighting management."
Hansjörg Märtin, Owner (Centre)
The best lighting for every viewing angle: the MINI showroom adapts the corporate design of the BMW cult brand also as regards the lighting. The recessed luminaire SISTEMA handles the ambient and accentuated lighting of the display models brilliantly. The paintwork and the surfaces of the vehicles are convincingly emphasized.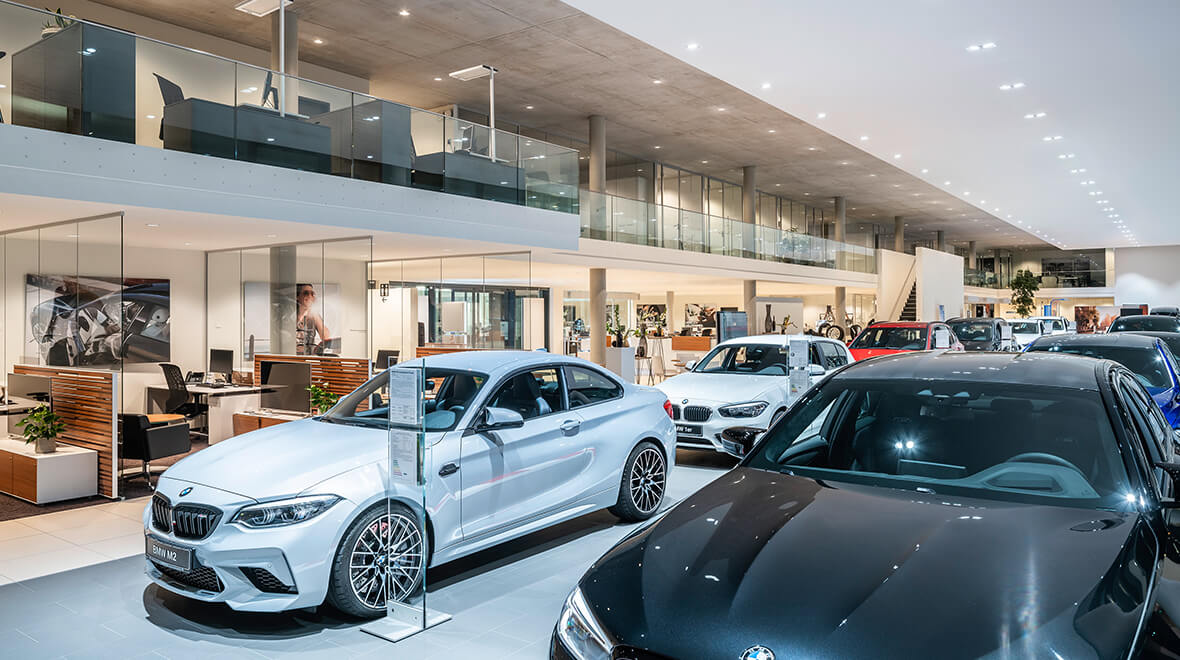 The ultramodern building complex together with the consulting area and the back office was designed in line with BMW's CI guidelines – SISTEMA supports the sale of new cars. BMW Märtin earns additional points with lifestyle services: Above the showroom, the "Auto suite" is located – an exclusive parking space for private vintage cars and sports cars.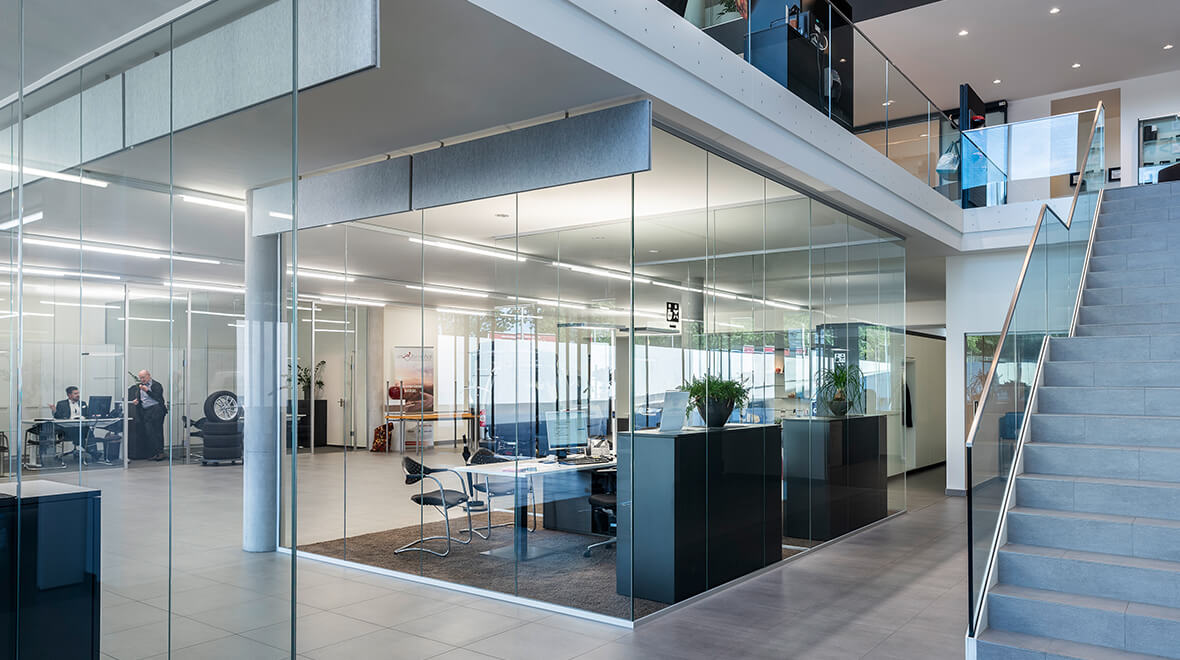 The areas for consulting and the office, on two levels, are at the centre of things and are completely visible and accessible. The challenge of this transparency is that for work on the PC special lighting solutions are required. On the lower level, free-standing luminaires provide lighting that ensures a pleasant monitor workstation; on the level above it INPERLA does a good job for a clear view of the monitor. The complete lighting is integrated into the DALI lighting control tool and is controlled via a KNX building services management system.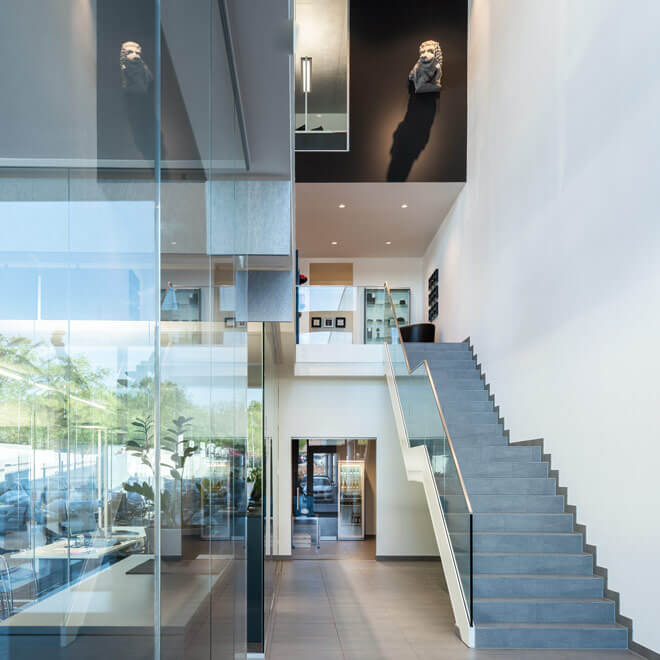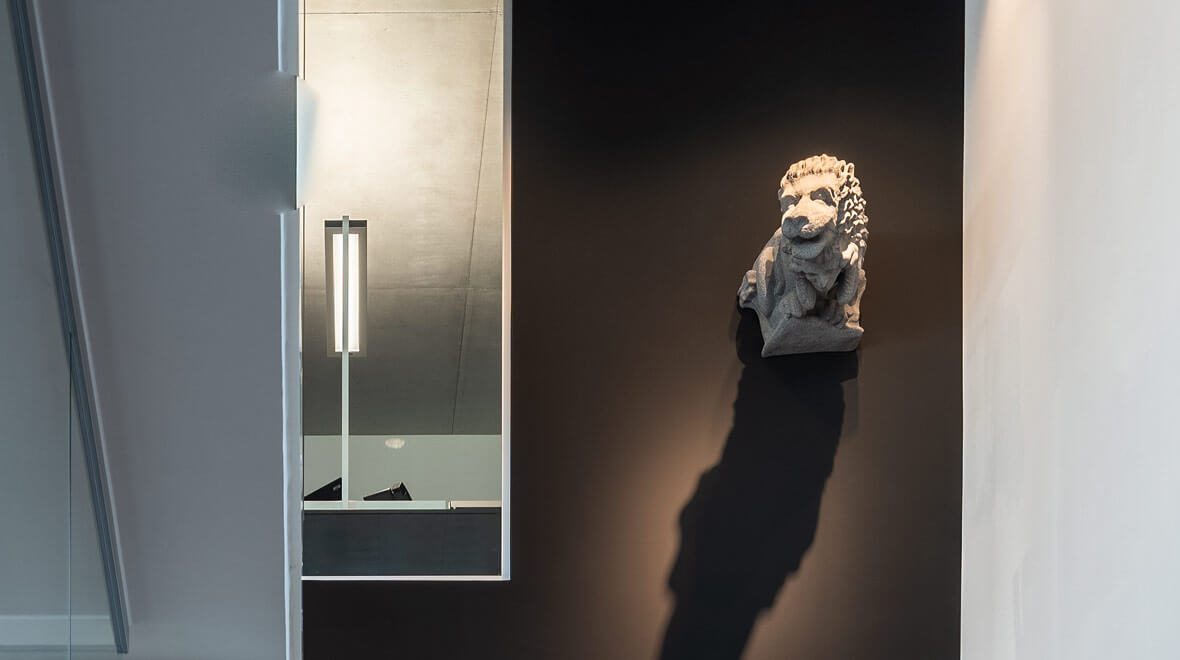 A good future is built on tradition: in the staircase area, the replica of a Freiburg gargoyle in the form of a lion sculpture with a human head links yesterday with the innovative today in the building. It is an expression of thanks for the regular donations to the building association of the famous Freiburg Minster.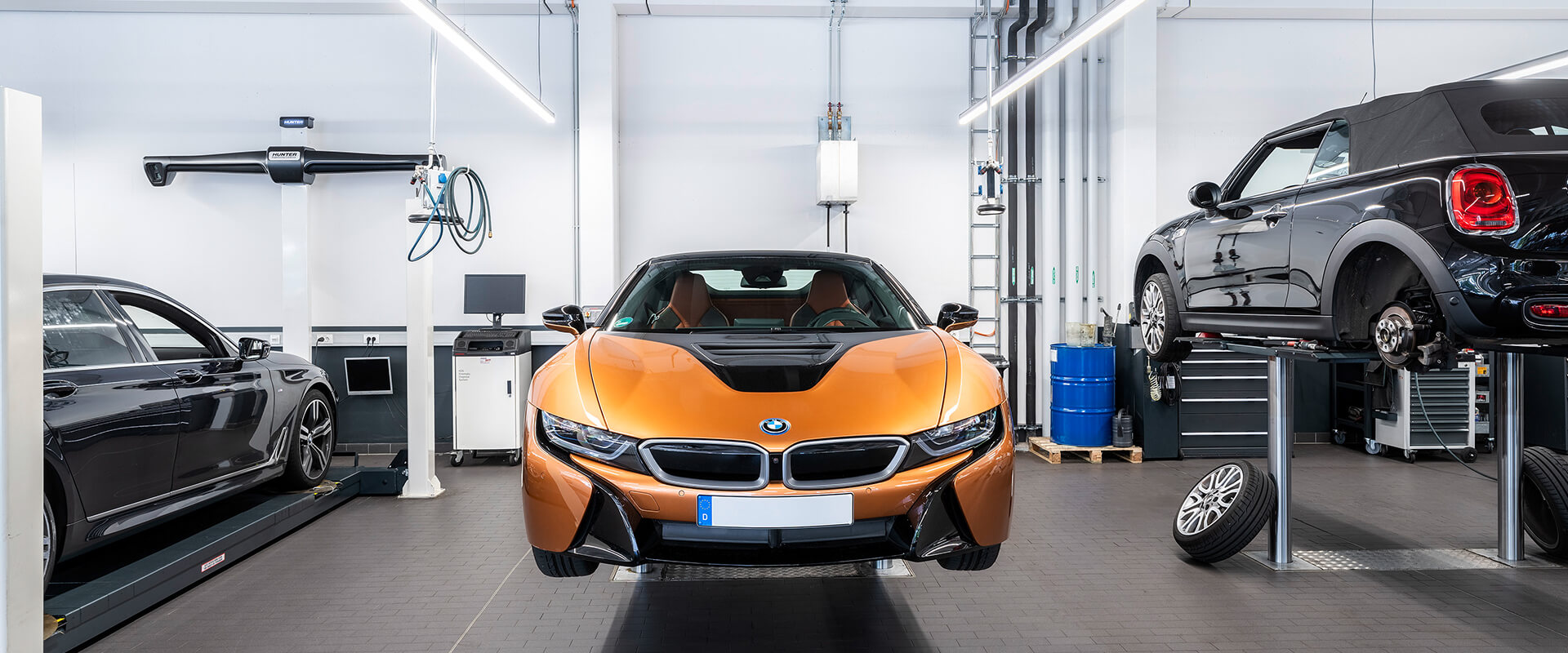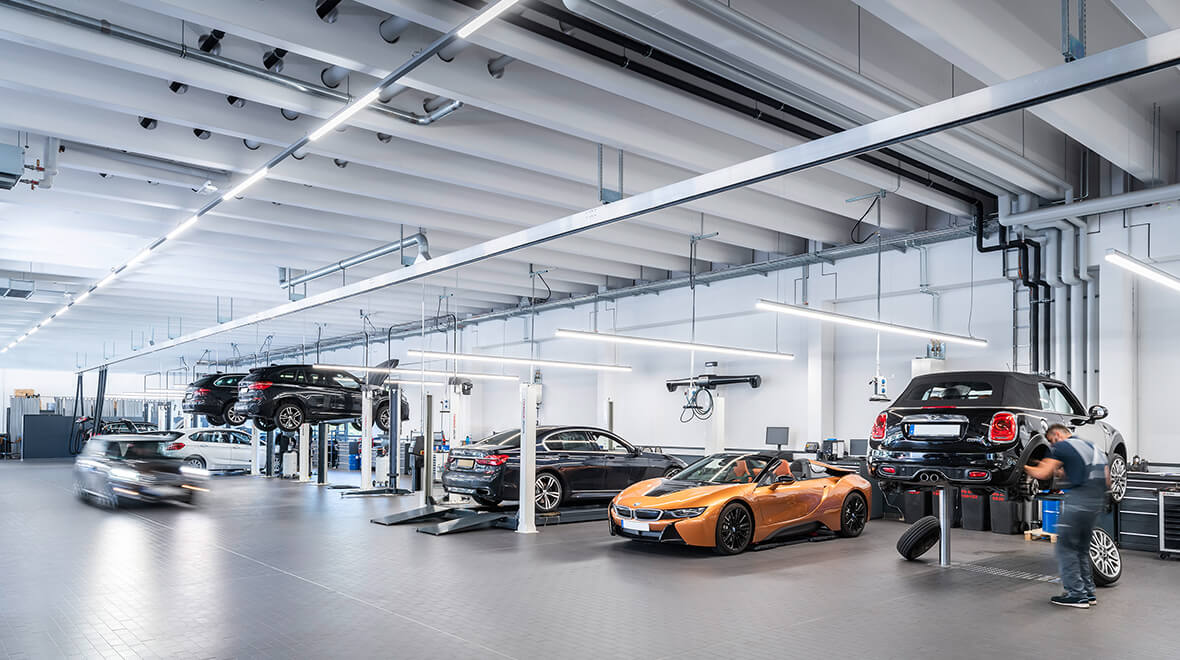 Eye-catching stage for the car in the service consultation area: here the E-LINE on the steel rope fittingly sets the scene for the customer's "darling". The room radiates wideness, openness and quality, this is ensured also by the clean lines of the strip lights.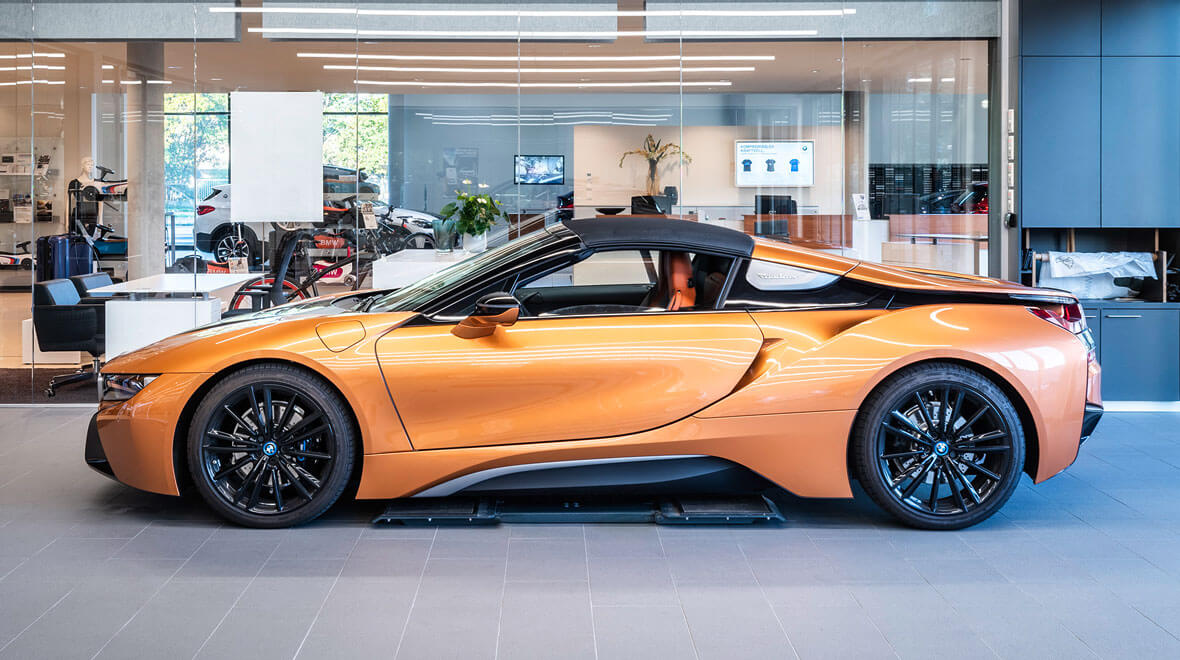 The strip light E-LINE with ultramodern LED equipment on different surfaces: from the service consultation area, via the workshop to the tyre store with its own requirements, the flexible system guarantees optimum ambient lighting, whether as a ceiling solution or suspended from a steel beam. The OT PMMA reflector system produces wide-beam, diffuse light - ideal for uniform illumination up to the surface of the ceiling. The combination of direct and indirect lighting effect enhances the space experience.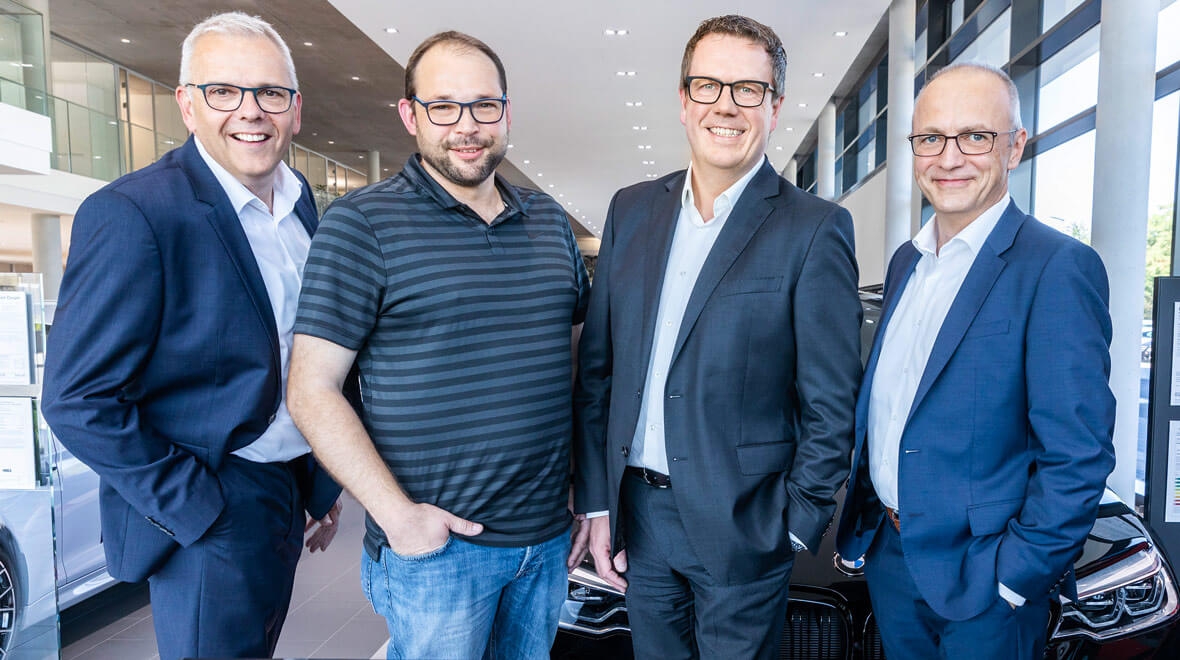 "We think forwards and need partners at eye level. The cooperation with Oktalite, Trilux and Elektro Eble was inspiring. New things often need short communication channels and creative solutions - for these well-attuned project partners something that goes without saying."
Dirk Zimmermann, Managing Director (3rd from left)
Address
Oktalite Lichttechnik GmbH
Mathias-Brüggen-Straße 73
50829 Cologne
Germany